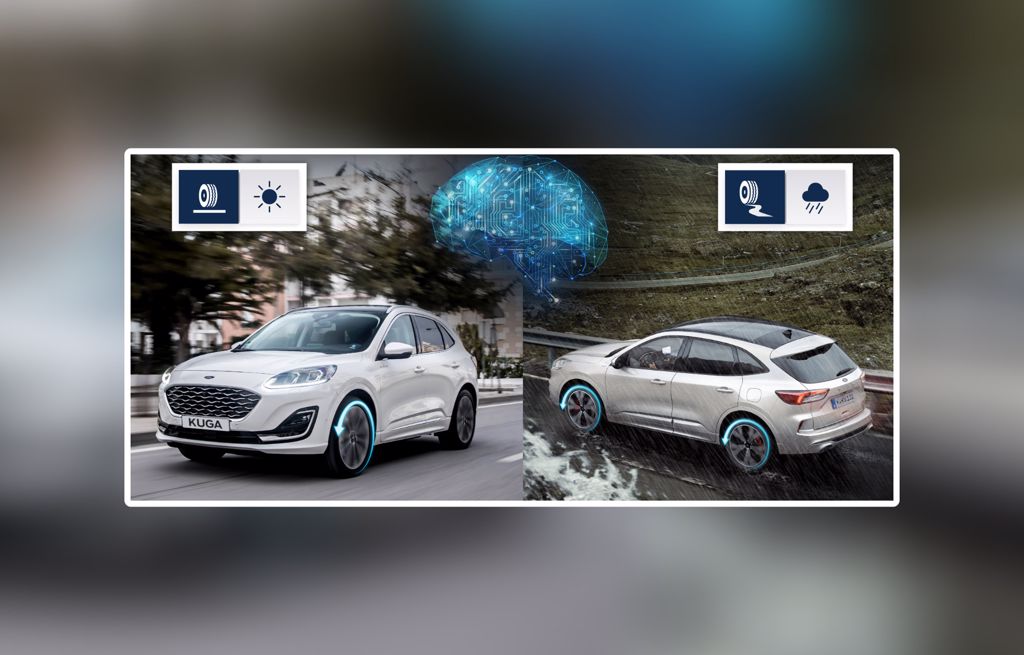 ARTIFICIAL INTELLIGENCE HELPS DRIVERS GET A GRIP ON THE ROAD AND THEIR FUEL COSTS
The Kuga Hybrid with AWD disconnect can optimise grip and efficiency using artificial intelligence.
For several decades, four-wheel drive systems have provided more grip for drivers tackling slippery conditions by sending power to all four wheels – but at the cost of higher fuel consumption.
Then came all-wheel drive (AWD) technology – able to detect which wheels had the best traction and send more power to those wheels for extra grip with a reduced fuel penalty.
Now Ford has gone one step further – introducing AWD disconnect technology for Kuga SUV models including the new Kuga Hybrid. The technology uses artificial intelligence to switch off Kuga's Intelligent All-Wheel Drive 1 system in favourable driving conditions for even greater fuel efficiency and can reconnect faster than the blink of an eye when it decides drivers could again benefit from extra grip.
While drivers can face slippery conditions year-round, Intelligent All-Wheel Drive 1 offers a particular benefit during winter months when rain, snow and ice regularly make road surfaces more challenging. A road surface made slippery by weather or a deposit such as oil or mud accounted for 8 per cent of road accidents in the UK in 2019. 2
As drivers across Europe prepare for seasonal getaways and road-trips where allowed, AWD disconnect could help them keep a more secure footing on the road while delivering a fuel saving of approximately 6.5 per cent according to Ford data, by switching to front-wheel drive when appropriate.
"All-wheel drive isn't just for heading off-road – the extra traction can make journeys smoother, safer and less stressful for drivers, particularly in wintry conditions," said Glen Goold, Kuga chief programme engineer. "We designed our new Kuga Hybrid to help drivers save on fuel costs, and the artificial intelligence of AWD disconnect means they can do exactly that while still getting all the benefits of Intelligent All-Wheel Drive."
"Fuzzy logic"
Kuga Hybrid's Intelligent All-Wheel Drive 1 system continually monitors which wheels have the best traction on the road surface using information from sensors around the vehicle.
Power from the petrol-electric full hybrid powertrain is seamlessly distributed between the front and rear wheels for smooth progress and responsive cornering, with adjustments taking less than 20 milliseconds. In situations where the front wheels have no traction, the system can even send 100 per cent of power to the rear wheels.
The sophisticated AWD disconnect feature uses a dedicated electronic brain and "fuzzy logic" algorithm to determine whether power to the rear wheels can be disconnected completely in the existing circumstances, for example; when motorway cruising in warm and dry conditions. This temporarily makes Kuga Hybrid front-wheel drive for even better fuel efficiency.
Crucially, AWD disconnect is always ready to reconnect power to the rear wheel if it detects that Intelligent All-Wheel Drive 1 is – or soon could be – needed. AWD disconnect monitors information from systems including traction control and anti-lock brakes to determine wheel spin and slip; windscreen wiper activation and outside temperature to determine weather conditions; and can even detect if the Kuga Hybrid is towing a trailer, to help it reach a decision in just 10 milliseconds.
"'Fuzzy logic' refers to the algorithm, which can take into account all sorts of variables before making a decision, just as you or I might do when deciding what to wear based on the weather forecast, the time of year, looking outside and where we're going," said Scott Beiring, Ford driveline applications supervisor. "For Kuga, that means Intelligent All-Wheel Drive 1 won't engage just because the windscreen wipers are on. The algorithm takes into account information from a number of sensors before deciding whether or not to engage, but does so much faster than any human could."
Effortless to own new Kuga Hybrid
Part of Ford's most electrified single nameplate line-up ever, the new Ford Kuga Hybrid uses a full hybrid powertrain to deliver the ultimate efficiency 3 and refinement of pure-electric power with no need to charge from an external power source, alongside diesel-rivalling driving range.
Kuga Hybrid is also the first Kuga to combine an electrified powertrain with the option of Ford's Intelligent All-Wheel Drive 1 technology depending on market, for an optimised driving experience.
Intelligent All-Wheel drive 1 is also offered for the Kuga 190 PS 2.0-litre EcoBlue eight-speed automatic variant.
Discover Ford Kuga Request a Call Back
1 Driver-assist features are supplemental and do not replace the driver's attention, judgment and the need to control the vehicle.
2 https://www.gov.uk/government/statistical-data-sets/ras50-contributory-factors
3 Kuga Hybrid Intelligent All-Wheel drive fuel efficiency from 5.7 l/100 km, CO2 emissions from 132 g/km WLTP (from 5.3 l/100 km and 120 g/km NEDC)
Kuga 2.0-litre EcoBlue eight-speed automatic Intelligent All-Wheel Drive fuel efficiency from 5.7 l/100 km, CO2 emissions from 150 g/km WLTP (from 4.8 l/100 km and 126 g/km NEDC)
The declared fuel/energy consumptions, CO2-emissions and electric range are determined according to the technical requirements and specifications of the European Regulations (EC) 715/2007 and (EU) 2017/1151 as last amended. Light Duty Vehicle type-approved using the World Harmonised Light Vehicle Test Procedure (WLTP) will have fuel/energy consumption and CO2-emission information for New European Drive Cycle (NEDC) and WLTP. WLTP will fully replace the NEDC latest by the end of the year 2020. The applied standard test procedures enable comparison between different vehicle types and different manufacturers. During NEDC phase-out, WLTP fuel consumption and CO2 emissions are being correlated back to NEDC. There will be some variance to the previous fuel economy and emissions as some elements of the tests have altered, so the same car might have different fuel consumption and CO2 emissions.
News