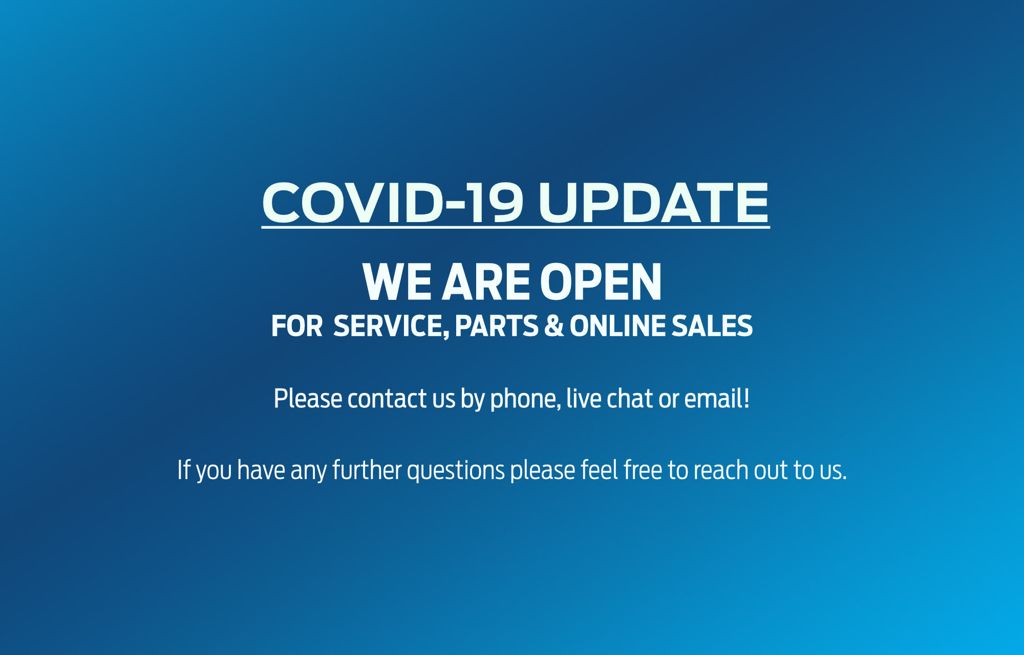 Business Update - Level 5 Restrictions January 2021
Following the Government announcement on Wednesday 30th December the resulting changes to our business will be come into effect from Thursday 31st December until the end of January 2021.
SERVICE, PARTS & ACCESSORIES – OPEN AS NORMAL
•
Car & Commercial vehicle servicing will continue as usual - Monday - Friday
•
CVRT VTN Test Centre is open and continues to operate as usual - Monday - Friday
•
Pre NCT & CVRT testing are available to book as normal
•
Customers are permitted to drive to and from their Service appointment even if this is outside their 5km zone –
please keep a record of your booking on you during these journeys
•
Dooley Motors will also offer a Collect & Delivery option to all customers during this time
•
ALL vehicle touch points will be sanitised upon return to the customer
•
Our Parts, Accessories & Tyre Departments will continue to operate as usual - Monday - Friday and Saturday by appointment
Book a Service Call - Parts and Accessories

CAR & COMMERCIAL SALES – SHOWROOMS CLOSED/ONLINE SALES OPEN
Our physical car showrooms on Sleaty Roundabout, Carlow will be closed for these next 4 weeks - however access through them will be granted for Servicing and Repairs.
We will also be available by appointment for collection/ delivery of pre-ordered new and used vehicles.
We appreciate that people will be eager to collect their new cars and we will be working hard to deliver / arrange collection in the safest and most efficient manner with each customer.
As everyone will understand the capacity of our team may at times be limited but we would like to reassure you that the safety and well being of our employees and customers are of paramount importance to us.

• Our Online Sales facility will be available during this time - email us on [email protected]
• Our Sales team will be available through our website chat facility, by phone, email and through all our social channels at all times

You can now:
• Check out our New/Used Models also on www.dooleymotors.com
• Call our dedicated Sales line 0599131665 press 1 to talk to our Sales team directly
• Request pictures/videos of the vehicle you are interested in
• Negotiate/Apply for Finance
• Place a Deposit on line or over the phone
Our Sales Team are here to support you during this time to ensure any questions you may have in relation to your current vehicle are answered in the most efficient manner.
If you are a current customer and want information on your warranty or are due for a PCP renewal please do not hesitate to make contact.
Also if you are looking for information on 2021 vehicles we are available to answer all your queries on this as best we can.


Browse New Vehicles Browse Used Vehicles Request a Call Back

We understand these are challenging times for everyone and we as a business would like to wish our staff, customers and fellow businesses across the country the very best of health and strength during this time.



News